Resources to help you learn about
alpha-1

and how to get screened for

alpha-1
Talking with your healthcare professional about getting screened for
alpha-1
The resources below provide information to help you talk with your healthcare professional about taking the second step—getting screened for alpha-1 with AlphaID™. In addition, check out the links to alpha-1 focused nonprofit organizations that can give you a better understanding of alpha-1.
Alpha-1 Fact Sheet
The Alpha-1 Fact Sheet will answer many of the alpha-1 questions you may have. The Fact Sheet will tell you about alpha-1, including how many people may have alpha-1, who should be screened for alpha-1, and how to get screened for alpha-1. This valuable information will better prepare you for your next appointment, during which your healthcare professional will use your AlphaID to determine if you are at risk for alpha-1.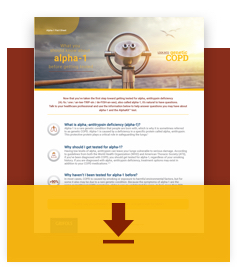 Alpha-1

Discussion Guide

This Alpha-1 Discussion Guide will help you talk with your healthcare professional about your current COPD symptoms and any questions you might have about AlphaID. You will learn how to start the alpha-1 screening conversation, what information you need to share about your current COPD symptoms, and any other information your healthcare professional may need to know about AlphaID.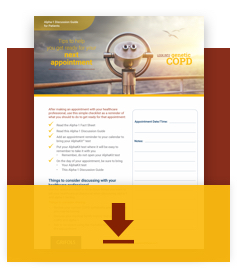 Get more information about alpha1-antitrypsin deficiency
Alpha-1

Foundation

Toll-free: (877) 228-7321
www.alpha1.org

The Alpha-1 Foundation is the only national organization dedicated to developing a cure for alpha-1 and to improving the quality of life for patients and their families. Acting as a patient advocate, the foundation helps the alpha-1 community better connect to one another—strengthening the support and care networks they need.

To find an Alpha-1 Foundation Clinical Resource Center (CRC) that specializes in patient care, education, and research for alpha-1, Click Here

The Alpha-1 Foundation also offers a comprehensive brochure about alpha-1. Download it now
AlphaNet
Toll Free: (800) 577-2638
www.alphanet.org
AlphaNet is a not-for-profit health management company providing comprehensive services exclusively to the alpha-1 community via care coordinators who are patients themselves.
copd-footer-homepage_alpha1-resources_order-alphakit
COPD=chronic obstructive pulmonary disease.