Find a healthcare professional near you who has experience screening for alpha-1
Search using your ZIP code to find a healthcare professional who is familiar with alpha-1 testing, which includes Alpha-1 Foundation Clinical Resource Centers (CRCs) that specialize in alpha-1. You can also contact the Alpha-1 Foundation at (877) 228-7321, ext: 321, or www.alpha1.org.
Enter your ZIP code and indicate your preferred speciality and distance
Sorry, there are no results for this search. Please try expanding your search.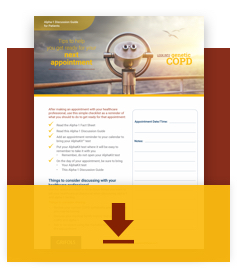 Prepare for your appointment—
download the Alpha-1 Discussion Guide
The Alpha-1 Discussion Guide offers tips on how to talk with your healthcare professional about getting tested.
content-footer-genericmap
This service is to help you find a healthcare professional and is not meant to replace your healthcare professional's medical advice or information from your plan about preferred healthcare professionals. You are ultimately responsible for the selection of a healthcare professional and it is an important decision that you should consider carefully. This tool is just one source of information available to you.
This list includes healthcare professionals who have experience in testing for alpha-1. The list is pulled from third party data. While data is updated regularly, this list may not have the latest provider information and results shown may not reflect all of the pulmonologists, primary care prescribers, allergists, immunologists, or gastroenterologists in your area. Grifols values and respects patient privacy. Test results are only provided to the healthcare provider who conducted the test.
Inclusion of a healthcare professional is not and does not imply a referral, an endorsement, or a recommendation by Grifols. Healthcare professionals included in this list have not endosed Grifols or any of its products. Participation by healthcare professionals in payer networks may vary. You should verify a healthcare professional's participation/acceptance of your health insurance. Users of this website are solely responsible for communications and interactions with any of the healthcare professionals, and any information users send them is not governed by our Legal Notice and Privacy Policy.
COPD=chronic obstructive pulmonary disease.